Knights Templar 'Masters of Poitou' sterling silver seal pendant.
This pendant is an artistic representation the seal of the Masters of Poitou made by highly skilled craftsmen , specialized at historic reproductions in silver and gold. The obverse features a templar cross patée (A cross which has narrow arms towards the center, that broader outwards at the edges). If you cant read what this pendant says, thats quite normal.. Being a seal, the text has been reversed (mirrored) to be best read on the imprint of the seal. The text reads 'SIGILLUM MILITUM TEMPLI'.
The Masters of Poitou used this seal. It has been used from the middle of the 8th century to the end of the Order. Background information on this and other knights templar seals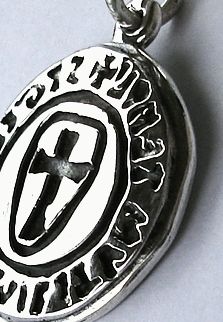 Classical and antique rhythms are quite hard to find in fine jewelry today particularly with any genuine quality - and without having to pay an arm and a leg!... This ring is made in limited numbers by experienced traditional artisans that uniquely respect and interpret the values of the ancient museum artifacts and the all-around quality such jewelry should carry.
The quality of the item you're viewing
The multiple views and shot angles are intended so that you can get a clear over-all feel of an item as one photo is never enough to show someone the all-around touch. Our items differ in quality from most internet-sold jewelry. We want you to and know exactly the quality you should expect if you are the lucky winner of this item. We are in turn fully committed to delivering nothing less than fine quality items that we are confident that you will appreciate and enjoy for years to come.
Weight:
A solid feel of 9-10 grams. Please note: small variations may occur as the pendant is largely hand-made.
Comments: Unusual and very distinctive piece. The oxidation on the silver provides a nice aged effect that makes the pendant dramatically eye-catching.