Cross number 63 is a magnificent piece as it is multi-layered and beautifully made in true Byzantine rhythm with a staggering full weight in solid sterling silver. The cross and minor crosses depicted naturally refer to the most sacred symbol in Christianic faith, however the Byzantine elements are striking both in the cross-patee (outwardly graduating thicker 'arms', this also being a characteristic of the Knight's Templar and Maltese cross which were to folow chronologically) as is also very characteristic, the intricate ball/core of the cross which is typical of asia-minor and Constantinople artisanship. Items like these, very heavy in silver and intricate in their build are common in Byzantine heritage and in clerical spheres within today's Greek-orthodox church as with higher members of the clerical hierarchy in Byzantium under Constantine the Great.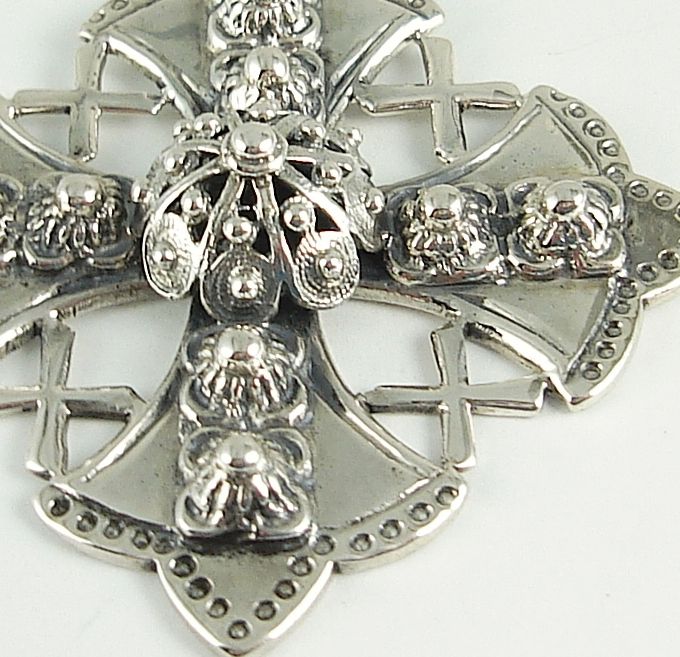 The design of this magnificent cross originates from actual byzantine museum artifacts from the east-roman empire c. 11 AD. It was first studied and reproduced by our grandfather, an old-school silver artisan from Asia Minor, and it is still reproduced today with the same unique crafting methods used by silversmiths as far back as 400 years ago.
Completely solid silver, hand made and cast in earth (an ancient jewelry-making method that still offers better results than industrial methods). It is actually made from multiple silver casts that have been crafted skilfully in layers to make this 3-dimensional resulting masterpiece.
The sheer size of the pendant adds to it's over-all exceptional appearance. This piece simply CANNOT go un-noticed when worn! As a jeweler, this is the finest ornamental cross I have seen. More than just a symbolic cross, this is in fact a complete piece of jewelry that is so beautiful that cannot avoid becoming a conversation piece when worn..
Condition:
Straight off the workshop bench!