Item 34 Double headed Sterling Silver Ancient ram torc ring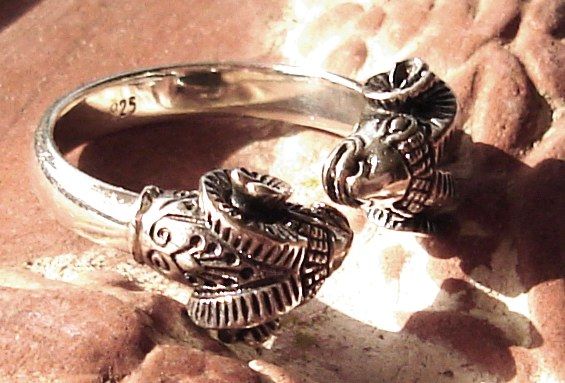 A vivid and emaculate microsculpture which renders the attributes of design and decoration of similar gold and silver artifacts from the archaic period. Gold bangles and rings of similar design have been found in burial site treasures throughout the Greek empire, while similar silver and bronze jewellery from the 4-th to the 2nd century B.C. also have been found, although more rarely because of the fast oxidating properties of these metals.


The significance of the ram in antiquity
The ram was sacred in various entwined ancient civilisations, from as far back as the mesopotamian civilisation (approx 3000 BC), to the Etruscan, Egyptian and Greek civilizations. Furthermore the peace-loving and quite mystical Minoans also revered it as an all important symbol of fertility.
Additionaly, the ram was seen as the incarnation of the Egyptian god Jupiter-Ammon. When Alexander the Great conquered Egypt he visited the shrine of Ammon (or Amun). Embracing the god, upon and after his visit, he dressed himself with the skin of a ream and the horns as a head-dress. Thereafter the horns of the ram (known as the horn of ammon) were depicted much like a crown in Alexander's portraits and depictions on Alexander's coinage (for more specimens of Alexander coinage see the Alexander and Lysimachos coins in our collection).
Irrespectively of it's significance however, this ring is an eloquent and beautiful peace of silversmithery having been hand made by artisan Greek gold specialists. The detail is amazing and and the quality of it's finish is also quite outstanding.
This ring comes in only one size. As the ring is open-sided you can adjust it (with a bit of care) anywhere within the range of a US 7 and 1/4 to an 8 and 1/2. (in circumference this translates to anywhere between a 55mm and 58mm