Extra Large Bachhus (Dionysus) coin ring. A museum quality reproduction of the AR Naxos Tetradrachm Sicily coin, circa 461- 430 B.C. Lavishly heavy and large mount. Solid Sterling Silver.
The Greek god Dionysus, (also spelt Dionysos or known as Bacchus to Romans) was known as the god that liberated man from his normal self through madness, ecstasy and wine. Dionysus/Bacchus was widely celebrated at wild intoxicating festivals. According to Nietzsche this indulging expression of man was absolutely necessary in order to counter and balance the Apollonian spirit which was man's outgoing self, albeit trapped within his morals. The cult Dionysus, son of Zeus and Semeli is also symbolized by the phallus and the erect satyr.
This classic chevalier type ring is hand-made made from solid sterling silver (the coin [also silver] is a high quality reproduction of the Naxos coin (that carries possibly the finest impression of Dionysus). The coin is cast in earth using a primitive method for higher definition. The ring has an incredible weight of sterling and is made by old-school artisans with antique quality craftsmanship.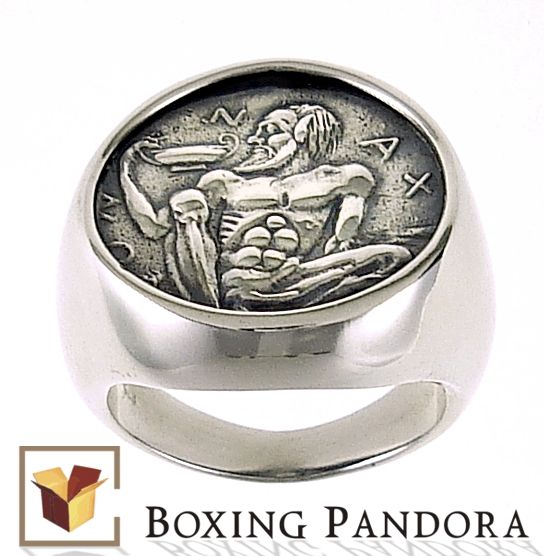 Comments
The classic design and quality of this ring makes this an item of jewelry that you will want to wear and enjoy for a lifetime. Very large, very impressive, very heavy.
Below is the reverse side of the same Naxos coin, also available. Click on the link to view this article.