The significance of the ram in antiquity:
The ram was sacred in various entwined ancient civilisations, from as far back as the mesopotamian civilisation (approx 3000 BC), to the Etruscan, Egyptian and Greek civilizations. Furthermore the peace-loving and quite mystical Minoans also revered it as an all important symbol of fertility.
Additionaly, the ram was seen as the incarnation of the Egyptian god Jupiter-Ammon. When Alexander the Great conquered Egypt he visited the shrine of Ammon (or Amun). Embracing the god, upon and after his visit, he dressed himself with the skin of a ream and the horns as a head-dress. Thereafter the horns of the ram (known as the horn of ammon) were depicted much like a crown in Alexander's portraits and depictions on Alexander's coinage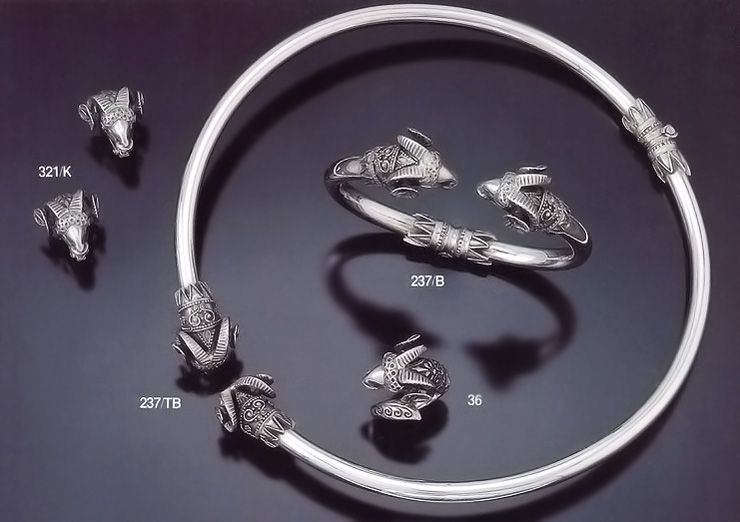 This piece belongs to a fabulous range of torc jewelry that our workshop boasts a speciality towards. Such intricate and quality-made pieces demonstrate the characteristic unique value of greek artisan silversmithery with all its diachronic finess.
Torc jewelry describes ancient jewelry that was open ended in the front (as necklaces or bracelets) and usually contained decorative ornate animal heads on either side of the opening. This motif renders the attributes of design and decoration of gold and silver artifacts from the archaic period. There are great similarities found between celtic and Greek torcs of this type, as this rhythm was known to have existed all over Europe. The oldest type of torc (or torque latin) jewelry known were excavated in classical Greek burial tombs. Famous celric torcs, much later were also found in tombs of Celtic princes. Many historians argue that they were a sign of nobility while others suggest the torc to have been a decoration awarded to warriors for their deeds in battle. Before this predominantly masculine form of decoration, torc jewelry is know to have also been a feminine form of jewelry (before 4 B.C)
Size:

This item comes in one size to fit regular female wrists (approx 17 cm perimeter)

Our hand-made spring hinge is used to expand temporarily to wear without distorting the shape of the bracelet.




One of the items our workshop is world renown for vivid detail, astonishing quality of manufacture and old-school craftsmanship.

Completely hand made. Spring-hinge mechanism ensures rigidity through long term use and that there is no distortion of the collar's shape over time.
Old-school silver items like these are rarely made in this day and age and where available cost fortunes. So take this oppotunity to obtain such a fine piece of art directly from us, the only source in the world where such quality torcs have been made for the last 75 years!