Coins from left to right depicting:
Alexander the Great (Lysimachus):

King Lysimachus (360 -281 B.C) was one of the leaders that ruled Alexander the Great's empire after its division following his death. The Lysimachus coin is takes its name due to his time of reign. Depicted is the head of Alexander the Great wearing the horn of Ammon.The Lysimachus coin is renown for its incredible depiction of Alexander the Great.

Helmeted Goddess Athena: Alexander the Great lifetime stater, Asia Minor, c. 328-323 BC,depicts Athena wearing a crested Corinthian helmet ornamented with a coiled snake, wearing an earring and a necklace, her braided hair falling straight down the back of her neck and visible as wavy locks beneath her helmet to the side.
Owl Of Wisdom:

The owl was usually depicted accompanying Athena (Roman Minerva), the all important virgin Goddess to whom perhaps the most significant shrine of classical antiquity, the Parthenon, was built in honor of. Her worship peaked during the golden age of Pericles 461 BC to 379 BC. It was during this inspiring age of wisdom that philosophy, architecture, medicine, theatre and the arts were first established as fabric to society to set grounds to an array of social fundamentals as they are today, whilst the radical concept of 'democracy' was also first fostered.

The all knowing, never sleeping wise owl, inspired this progress and thereon became the embodiment of the creative wisdom of man, able to generate civilization in physical and spiritual realms. In tribute, it was depicted on various denominations of the tetradrachm in the 5th Century BC to reach every part of the known world and spread its important meaning. Today, more than 2 millenia later, this owl still has it's honorary place on the Greek 1 Euro coin.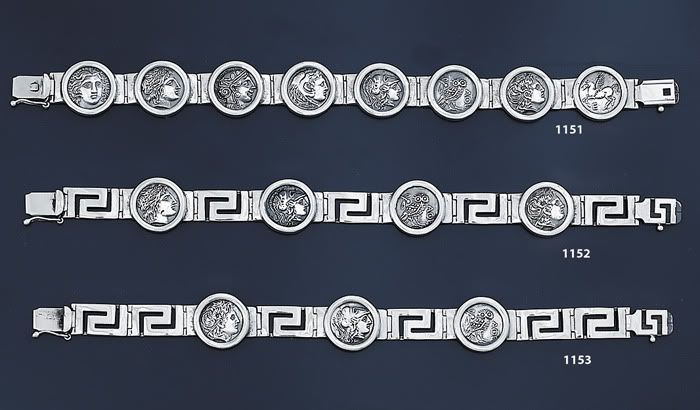 The Greek key pattern (also meander or meandros) takes its name from the square pieces that repeat in the pattern that look rather like an old fashioned key. The pattern is also known as a meander or a Greek fret. Meander means twisting and turning.
Meanders were among the most important symbols in ancient Greece; they, perhaps, symbolized infinity and unity; many ancient Greek temples incorporated the sign of the meander. Greek vases, especially during their Geometric Period, were likely the genesis for the widespread use of meanders; alternately, very ocean-like patterns of waves also appeared in the same format as meandros, which can also be thought of as the Guilloche pattern. The shield of Philip II of Macedon was decorated with multiple symbols of the meander; the shield itself can be found in the museum of Vergina in Central Macedonia of Greece.